Quick Refill
What to do after you receive your SIM card?
1
Step 1
Enter you correct ICCID in our rehcarge platform
2
Step 2
Check the status of your card/package expiry time/traffic usage
3
Step 3
Refresh your card/bing email/customer service/change language
4
Step 4
No auto recharge monthly, choose the data plan as you needed
Here's How To Activate SIM
Quick Help
Unsure of the difference? Need more explanation? Read below for helpful tips: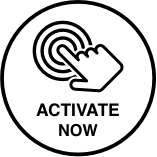 Activation:
You should use our activation link if you are looking to receive a new number from SpeedTalk Mobile.
Port-In (Transfer)
You should use our port-in link in order to transfer an existing number from another carrier.
IMPORTANT:
Make sure your existing number is currently ACTIVE with your phone company.
Remember to get your account number and PIN from your current phone company for successful transfer.

Refill
Remember! To continue using your plan and to avoid any service interruptions, you must REFILL your account before your current plan expires. We will send you a reminder notification when it is time to refill your plan.
Please Note:
If you purchase a preloaded SIM card (SIM card + service plan), you should not pay for the plan during activation or port-in process. If your SIM card does not include a plan at the point of purchasing the SIM card, then you need to select a plan and pay for the new plan you are selecting.
Where is my SIM card number?
Your SIM card number is located at the bottom of your SIM card