Sim Card Sizes Unveiled: Find the Perfect Fit for Seamless Mobile Connectivity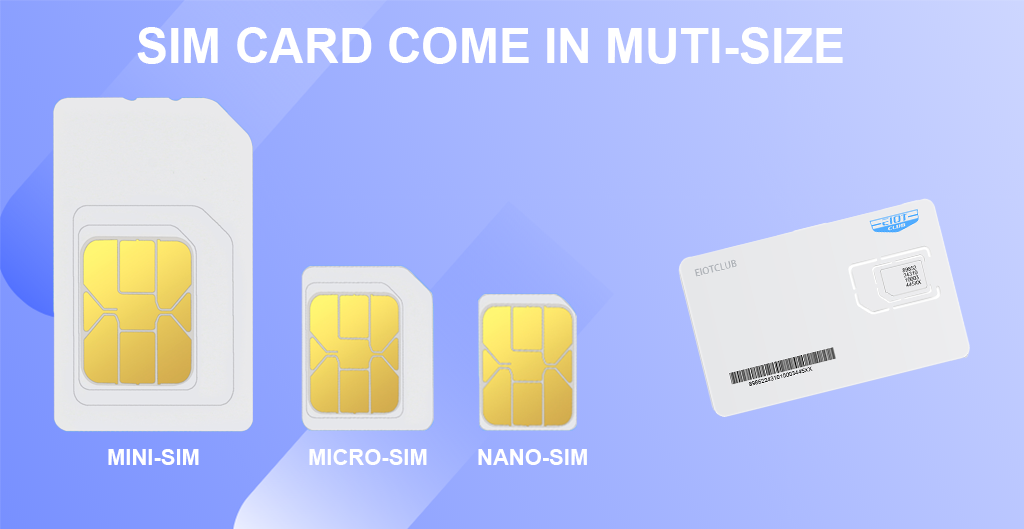 With the continuous development of technology and changing needs of market demand, the size of SIM cards is getting smaller and smaller.SIM cards can be described as having gone through four stages: Standard SIM (original card), Mini SIM (standard card), Micro SIM (small card) and Nano SIM (ultra small card). In this article, we will come with you to find out the card size evolution story.
SIM CARD SIZE STAGE
The original card (Standard SIM) seems to be just a card with the customer number, PUK code, and other information, and the size of a bank card, while the Mini SIM is the most commonly used standard card, and is the most used SIM card for many years.
In 2003, the international standard proposed 3FF, and in 2011, the international standard meeting proposed 4FF, and in 2012, it was incorporated into the international standard, Although the size of the card is decreasing, there is no difference in the function of these cards.
FORM FACTOR DIMENSIONS
Currently, most cell phones on the market use Micro-SIM cards (also called 3FF SIM cards, the third category of specifications SIM) and Nano-SIM (4FF), Micro SIM card size is 15x12mm, 52% smaller than the second category of SIM cards; and Nano SIM card size is 12.3x8.8mm, 60% smaller than the second category of cards, even the thickness is The size of Nano SIM card is 12.3x8.8mm, which is 60% smaller than the second type of card, even the thickness is reduced by 15%. Among them: the big card only supports Mini-SIM slot, the double-cut card supports both Mini-SIM and Micro-Sim slots, and the triple-cut SIM card supports Mini-SIM, Micro-SIM and Nano-SIM slots at the same time. The IoT card we usually use is usually a triple-cut card, also known as a "three-in-one card"
COMPARING SIM CARD SIZES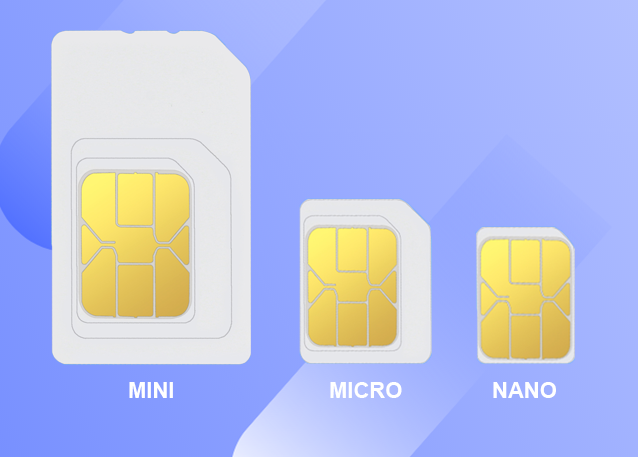 SIM CARD SIZE CHART
| Name | Also known as | Length | Width |
| --- | --- | --- | --- |
| Full-size SIM | 1FF | 85 mm | 53 mm |
| mini-SIM | 2FF | 25 mm | 15 mm |
| Micro-SIM | 3FF | 15 mm | 1 mm |
| Nano-SIM | 4FF | 12.3 mm | 8.8 mm |
WHICH CARD SIZE TO CHOOSE IN IOT
Cellular connectivity is the most reliable and widespread method of connecting IoT (Internet of Things) and M2M (machine-to-machine) devices, but in order for the operator to recognize the device, a SIM card as media identification module is needed. The size and type of SIM you need to choose depends on the usage, function, and space of the device
---